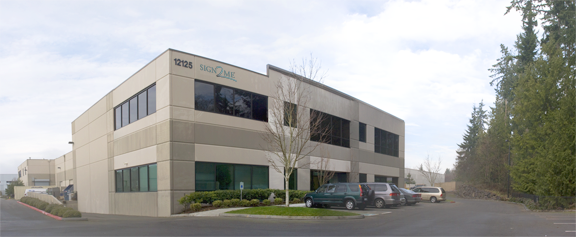 Sign2MeŽ Early Learning is already trusted by more than 2,500,000 parents, teachers, medical professionals, childcare professionals . . . and babies . . . worldwide!
Our company is a highly respected developer and publisher of educational resources with a focus on incorporating American Sign Language (ASL) signing vocabulary. We're based in beautiful Mukilteo, Washington, just 20 minutes North of Seattle. Our offices and warehouse are just a short stone's throw from the sparkling waters of Puget Sound. The Sign2MeŽ team is committed to the development, production, publication, and distribution of print, video, and multimedia resources to support early learning. Each of our products have been carefully developed with the common goal of leaving the world better than we find it! Please explore and enjoy the many facets of our Web site. We hope you will consider the many benefits of using ASL signs to communicate with the babies and children you love. We promise that you will be totally amazed when your baby signs! Sign2MeŽ is the original baby sign language company based solely on American Sign Language.
Early Expressive Communication
SIGN with your BABYŽ has revolutionized the way that adults view and interact with preverbal babies. Infants and toddlers are finally able to express their wants, needs, and observations in a manner that is clearly understood by their adult allies. Recent research, coupled with the experiences of parents and childcare professionals, is confirming that using ASL signs offers a host of significant benefits.
When Dr. Joseph Garcia began working as an ASL Interpreter in the late 1970's, he noticed that hearing babies of deaf parents could communicate their needs and desires at a much earlier age than children of hearing parents. Dr. Garcia began to research the use of ASL with the hearing babies of hearing parents at Alaska Pacific University in 1987. The results were extraordinary. His research showed that hearing babies who are exposed to signs regularly and consistently at six to seven months of age can begin expressive communication by their eighth or ninth month. This process helps to accelerate the acquisition of verbal language as well. The reduction in frustration for everyone is huge!
Eventually, Joseph encountered Sign2Me Early Learning, and with their help, began collaboratively developing a practical system for teaching the process to parents. The new program first reached store shelves in 1999 in the form of the SIGN with your BABYŽ Complete Learning Kit. Since then, over 2,000,000 parents, teachers, medical and childcare professionals have successfully turned to the program to help them establish two-way communication, improve daily interactions, and strengthen their relationships with the children they love and care for.
How it Works
Scientific research is now revealing that a very young baby can understand and express much more than what was previously thought possible. Consider the fact that hearing babies can understand spoken words early in life, though spoken words are frequently more abstract than signed words. The sounds "m" and "ah" have no inherent meaning but, when combined to form the word "mama", babies quickly learn to associate this symbol with the nice woman who feeds and takes care of them! To some degree, all words and signs are abstract symbols. If we consistently use the word "mama" in context, most babies will learn to understand what this symbol means. If we also use the sign for "mama" whenever we say that word, babies will come to understand and relate this symbol as well.
Incorporating signs into your daily routine does not require fluency in American Sign Language. Rather, it demonstrates that even a few simple gestures can make a big difference in empowering and meeting the needs of nearly every child. Parents and caregivers should start slowly by introducing several ASL signs that represent ideas babies can understand, like "more", "eat", and "milk". When babies begin to replace some of the screaming, whining, and crying with a few simple hand gestures, it can dramatically improve their relationships with caregivers.
With each day, more and more people are coming to recognize the power of signing as it changes the way they view and interact with preverbal children.
Send us and email click here